About Serra Kirdar
The Home Of Curated Design
Serrakirdar.com is a female founded fashion and lifestyle platform, dedicated to shining a light on talent and taking you on our journey of discovery around the globe. We deliver straight to your doorstep the ultimate edit of exciting and edgy independent brands.
Serrakirdar.com is dedicated to discovering the distinct. We add a touch of stardust to your look and inject the wow to your wardrobe.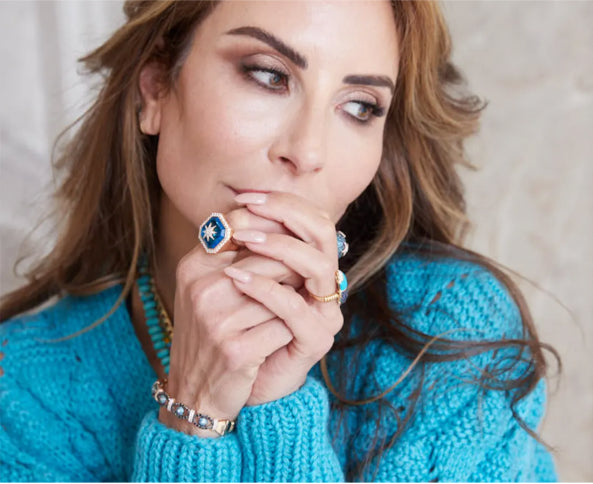 Meet Our Founder
Serra Kirdar

Dr. Serra Kirdar, a New Yorker of Iraqi-Turkish descent, launched Serrakirdar.com (previously known as EvolutionSK) with the belief that fashion can continuously evolve and remain exciting, while still being relevant to our multifaceted lives. As a PhD graduate from Oxford University, Serra is passionate about education and women's empowerment, particularly for women from the Arab world. Her father's background as CEO and Founder of Investcorp, a private equity firm that bought luxury brands including Tiffany and Gucci, exposed her to the world of corporate fashion from an early age, which influenced her direction for Serrakirdar.com.
"Every facet of one's life affords us a way to behave and dress and live. I'm a subscriber to glamour as much as comfort".
Serra's lifelong passion is to seek out and support emerging artists and designers around the world, blending styles together to create a unique shopping experience. Serra merges the worlds of fashion and lifestyle through Serrakirdar.com, an e-commerce marketplace that showcases talent and creativity from all over the world.
It's All In the Mix
#Minxitup

#MinxItUp is our invitation to a distinctively curated sense of style. It entails achieving a bold, edgy yet relaxed look by combining diverse accessories and products in an unconventional manner. The SK look is all about attaining that unique Minxy vibe by artfully mixing various styles.
A Responsible Way to Shop
Be Conscious

Consciousness is at the forefront of our brand DNA, and we celebrate brands and talent who too are committed to these goals and share our brand values of Empowerment, Artisanal Craft, Supporting Local Communities and Responsible Production.
The 'Be Conscious' collection is a group of products that are all made with the Earth in mind and where we shine a light on brands who value the environment, humans, animal welfare, community- driven initiatives and cruelty-free practices in hopes of securing a more sustainable fashion industry.